How to Make BOMB Pinterest Images with Canva (for free)
If you have a website, blog, business, or just an account you need to optimize your Pinterest images for, you've come to the right tutorial. I'm sure you've noticed a ton of awesome Pinterest images on your feed, and when I first started promoting my business on Pinterest, I always wondered how people created them. I assumed it was with a paid product like InDesign or Photoshop, along with legitimate photography or stock photos that cost. After years of experience, I learned that's not always (maybe even rarely) the case.
You actually have the ability to create optimized, vertical Pinterest images in Canva for free and without becoming a professional photographer or graphic designer. Here's how…
If you don't have an account, simply go to canva.com and create an account for free. If you do, log in and you'll likely see the first image below.
pulished post on September 20, 2016 Upadated on 17 April 2022
Although "Layouts" are available in Canva (which is the tab you'll see open first once clicking the Pinterest Graphic), I'd suggest uploading your own stock photos or photography. It is good to scroll through Layouts and find a couple of free ones that you like and can use from time to time. I find personally, though, that I have much more creative space when forgoing a Layout and freelancing it with my own images and the "Elements" tab.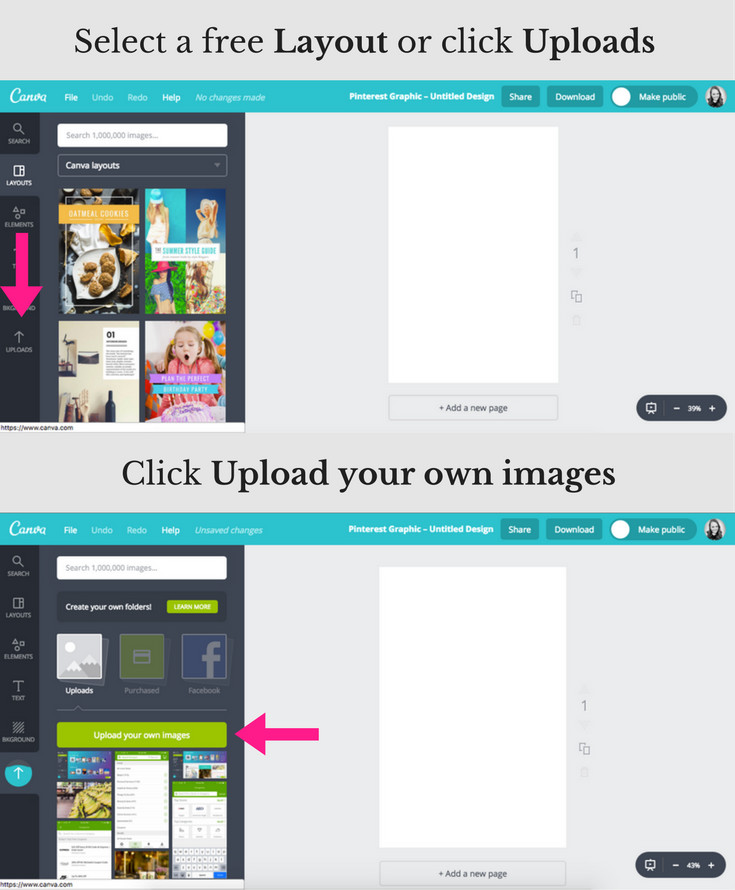 For quality and click-ability, I find Pins that have an image in the background or are part image/part text gain far more traction than Pins that only have color and text. It's also a must that Pins be vertical, as square or horizontal images aren't noticed as well when users scroll through and get FAR less engagement.
If you're not a professional photographer or have no idea where to find professional, free stock images, you can use my absolute favorite resource with over 47+ websites that offer free stock photos right here. Seriously, it's a godsend.
Next, I'm going to go the image-in-the-background route. After clicking "Upload your own images"…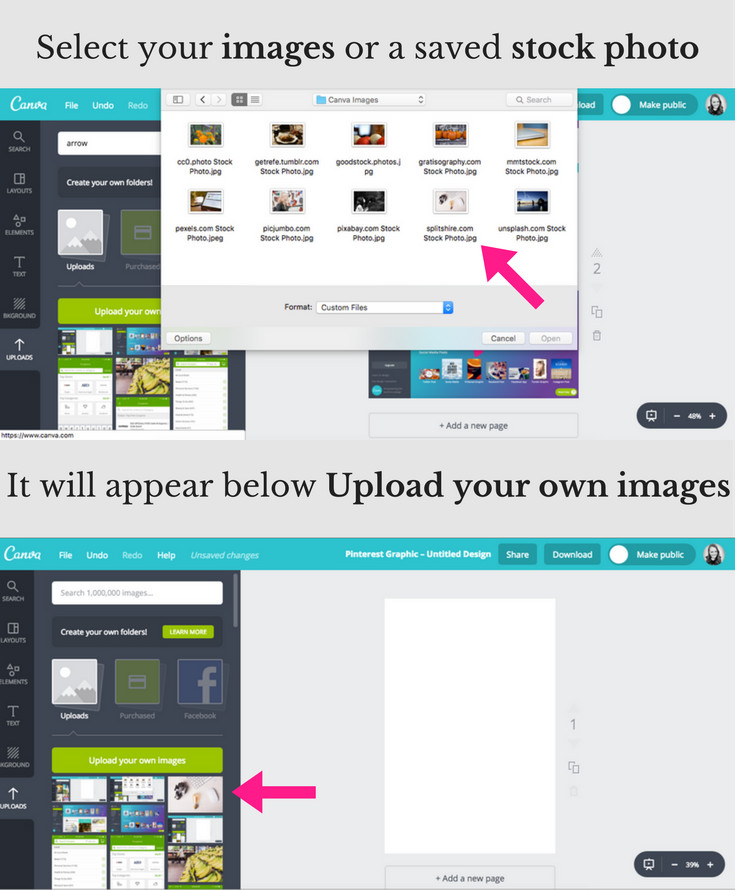 When you resize your image, it's not always important that the entire photo fit on the Pinterest template. If you're using a vertical image, great–you don't have much to worry about. If you're using a horizontal image like I did, enlarge the image and get creative.
If I'm doing an image in the background, I stay below 50 in Transparency. Depending on the boldness of the image, I may go as low as 20-30. The goal is to have the text pop and make sure it's not difficult to read but don't wash out the image completely. Next, you'll want to add your text.
Note: If you're using a font for commercial use, do make sure the font you're using is approved for that. You can easily google the font to find out.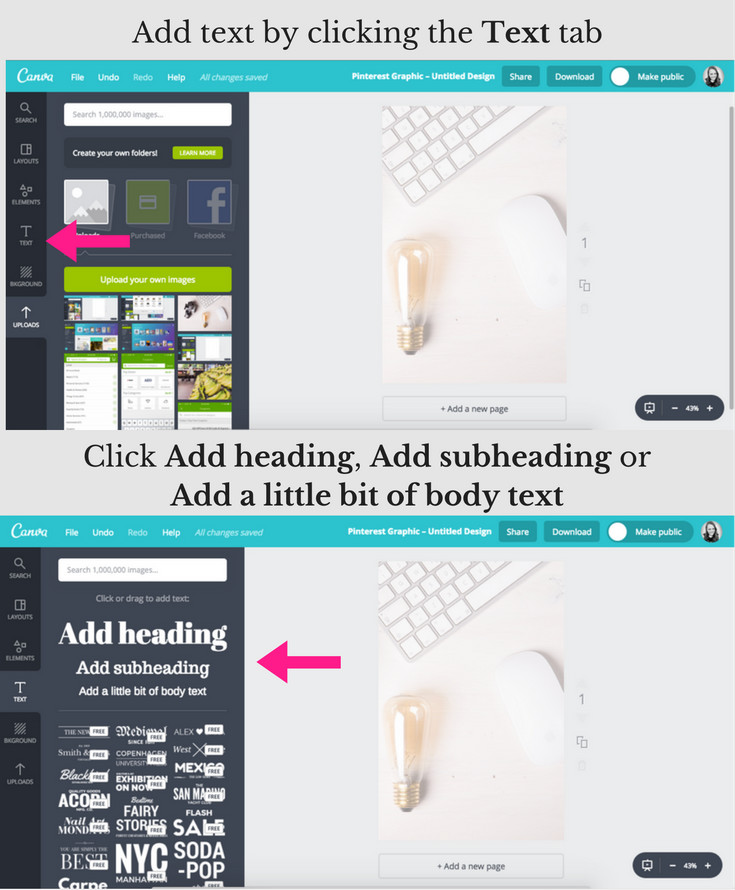 Heading, subheading and body text are all different sizes initially, but in reality, you can adjust the text size to whatever you want regardless of which you choose. If text is the only thing you're adding to your image, I'd suggest centering it. If you're adding a list or more info, do the title at the top and info/list in the middle.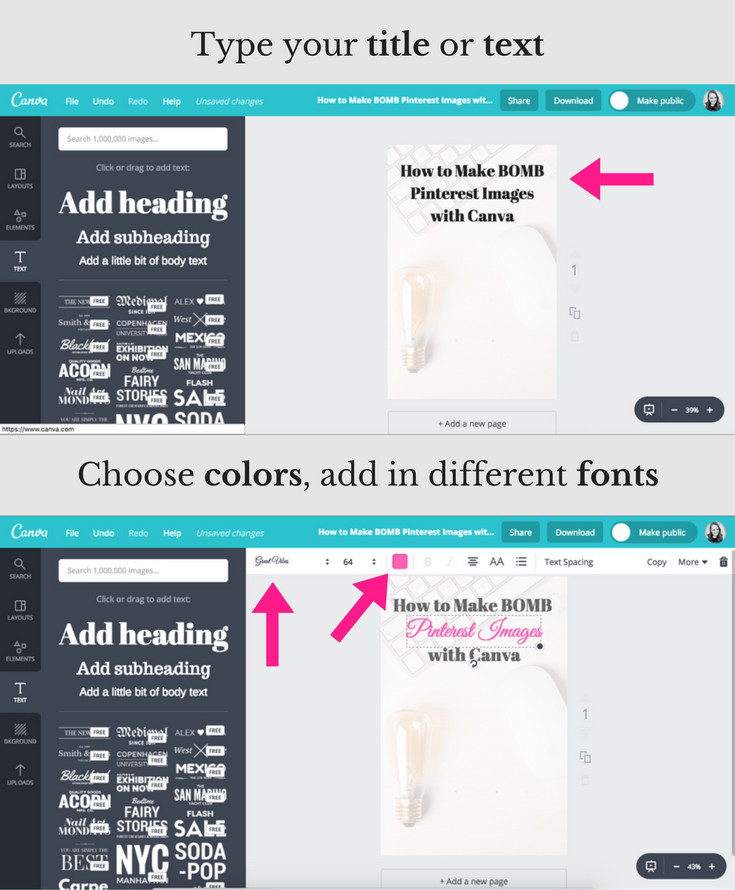 If you do some of the text in a different font, you will have to add a separate text box.
Your title should be interesting enough to make people want to click. If you're not just doing a title though, I would suggest putting some sort of list or teaser in the middle that's helpful enough people can gain something just from reading/saving your Pin. Use Elements < Shapes to draw people's attention to additional text/lists in the middle.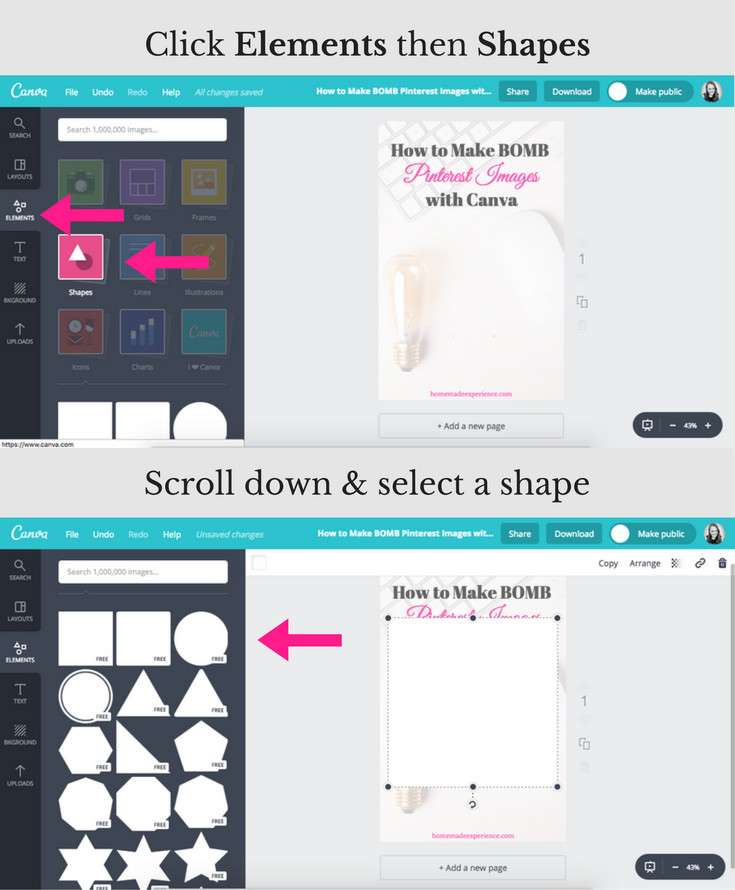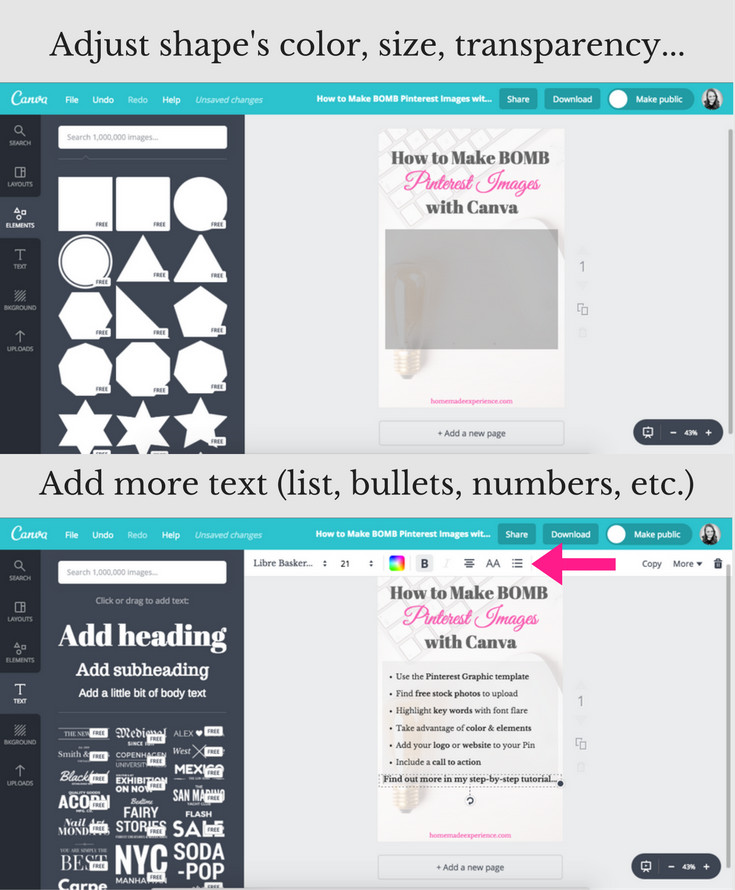 Once you near the end, play around with the text and elements a bit–adjust in places that you think need it. I really like to use the "Lines" feature in Elements to compartmentalize text that needs that visual separation (for example, the bullet points and the call to action in the above Canva draft).
Once you've tweaked it to your personal or brand taste, you have the finished, optimized, attention-grabbing Pin!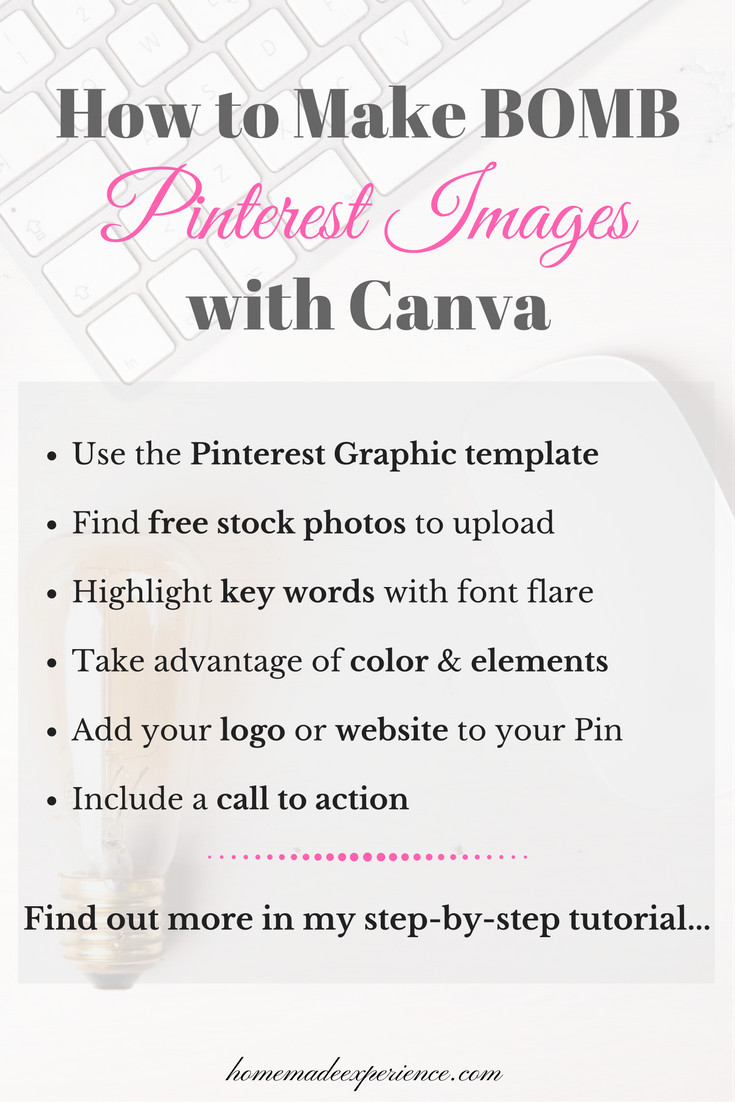 As I mentioned above, this is the image-in-the-background route. If you'd rather do a part image/part text pin, it's a little simpler. Go back to when you click to add your own image on the template. Adjust the image size to take up 2/3s of the Pinterest template and add your title. For this route, transparency isn't necessary, and I personally shy away from a ton of additional text/lists.
Don't forget: Pick your favorite Pinterest image and Pin!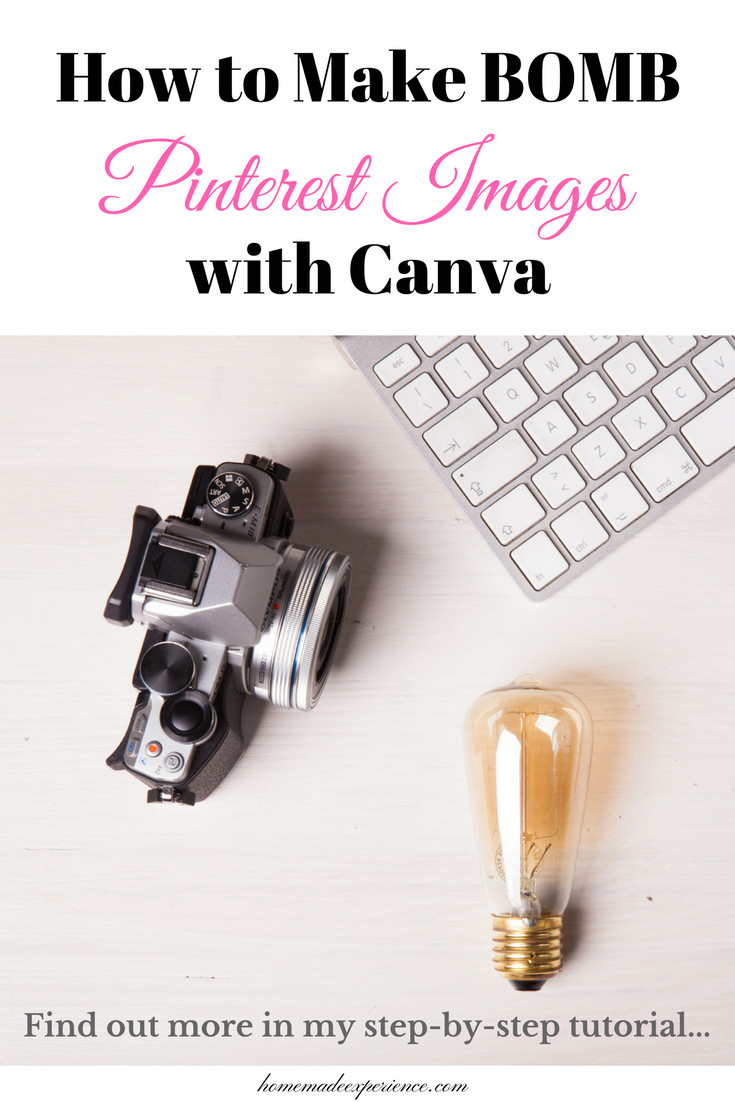 If you want to take things a step further when you get more comfortable, you can do a collage Pin that includes 3-4 photos with your text. You can still go the image-in-the-background or part image/part text route with a collage as well. Here are two great examples here and here.
Pro Tip:
If you're wanting to use the same design across multiple platforms but have to use different templates (square, banner, etc.), you can copy/paste your current design onto a new template and adjust. Check out how below…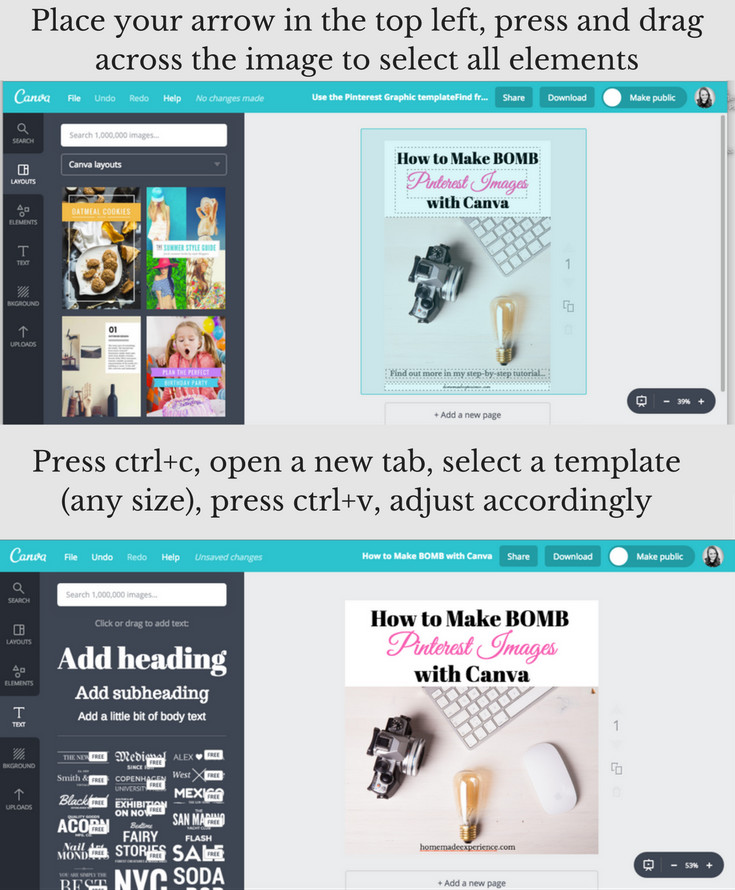 How often do you use Pinterest and what areas are you looking to improve?
For more great social, marketing, and content info, follow my lifestyle page at Homemade Experience.